Building Dreams Brick by Brick
In the scenic landscapes of Ouray, Ridgway, Silverton, Naturita, and Telluride, Citizens State Bank is more than just a financial institution. We are your neighbors, your partners, and your guides in the exciting journey of building a home from the ground up. With our tailored construction loans, we're here to turn your architectural dreams into tangible reality, all while upholding the community values we cherish.
---
Contact Our Mortgage Experts
---
Understanding Construction Loans with Citizens State Bank
Construction Loans vs. Regular Mortgage
Unlike a regular mortgage or home equity loan, a construction loan is designed specifically to finance the building of a new home. It's a short-term loan that covers the costs of construction, providing flexibility and support during the building process, and then can be converted into a conventional mortgage once the home is complete.
A Step-by-Step Guide to the Construction Loan Process
Initial Application: Crafting Your Blueprint

Start your journey by applying for a construction loan at Citizens State Bank. During this phase, we'll review your financial standing and delve deep into your project's specifics - from the construction timeline and budget to your chosen contractor's credentials. Our dedicated team collaborates with you, ensuring the loan is tailored to your building aspirations.

Financial Review: Comprehensive assessment of your financial standing.
Project Evaluation: Analysis of construction timeline, budget, and overall feasibility.
Contractor Verification: Review and approval of your chosen contractor's credentials.
Collaborative Planning: Our team works with you to tailor the loan to your specific needs and building plans.

Structured Financing: Milestone-Based Disbursements

Once approved, your construction loan operates on a draw schedule. This means funds are released in stages, corresponding to crucial construction milestones. This approach guarantees efficient use of funds, keeping your project on the right track. Throughout this phase, our team remains actively involved, ensuring disbursements align with your construction progress.
Draw Schedule Setup: Establishing a clear schedule for fund disbursements based on construction stages.
Milestone Monitoring: Regular checks to ensure construction milestones are met before releasing funds.
Efficient Fund Use: Ensuring that the money is used appropriately for the intended construction phase.
Ongoing Support: Our team remains actively involved, adjusting disbursements if needed and addressing any concerns.
Completion and Transition: From Construction to Conventional Mortgage

As the final brick is laid and your dream home stands complete, it's time for the next step. Your construction loan is seamlessly transitioned into a conventional mortgage. This smooth transition means there's no need for a new loan application, allowing you to settle into your new home with minimal fuss.
Final Inspection: A thorough review to ensure all construction aspects are completed to standards.
Loan Transition: Seamless conversion of your construction loan into a conventional mortgage.
No New Application: Eliminating the need for a separate mortgage application process.
Settlement Support: Guidance through the final steps, ensuring a smooth transition into your new home.
Lay the Foundation with Citizens State Bank
Your dream home awaits, and the path to making it real begins in Ouray, Ridgway, Silverton, Naturita, or Telluride with Citizens State Bank. Let's break ground together! Contact us today or visit a local branch to explore how our construction loans can shape your future.
At Citizens State Bank, we proudly uphold our commitment as an Equal Housing Lender, ensuring fair and equitable lending opportunities for all.
---
Contact Our Mortgage Experts
---
Common questions about Construction Loans
---
Contact Our Mortgage Experts
---
Download Our Mobile App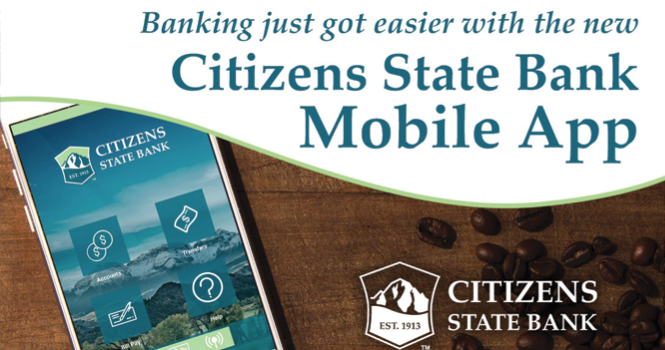 Download the new Mobile App & get access to these great features!
Mobile Check Deposit, Transfers, and Bill Pay
Access to Account Balances & Transactions
Download the app for free from iTunes or Google Play.
---
Have questions? Just ask. We're here to help.
We will respond during regular business hours, M-F - 8:30AM to 5:00PM.
Phone: 970.325.4478
Contact Us