Home Sweet Home: Discover the Power of Our Conventional Mortgages!
At Citizens State Bank, we're more than just a bank. We're a part of the community, deeply rooted in the towns of Ouray, Ridgway, Silverton, Naturita, and Telluride. When you're looking to buy a home, we understand the unique needs and aspirations of our community members. Our Fixed Rate Conventional Mortgage is designed with you in mind, ensuring a smooth and transparent process. Let's embark on this exciting journey of homeownership together!
---
Contact Our Mortgage Experts
---
Understanding the Steps of the Mortgage Process
Embarking on the journey of homeownership can be both exciting and overwhelming. At Citizens State Bank, we aim to simplify the mortgage process for you. With Citizens State Bank guiding you, the path to homeownership becomes clearer and more manageable. We're committed to ensuring you understand every step and every detail. Here's a step-by-step breakdown:
Initial Consultation: Meet with our mortgage specialists to discuss your needs, budget, and any questions you might have about the process.
Pre-Approval: Before house hunting, get pre-approved. This step involves checking your credit and determining how much you can borrow. It gives you a competitive edge when making offers on homes.
House Hunting: With a clear idea of your budget, you can now search for your dream home. Consider factors like location, size, and amenities.
Making an Offer: Once you've found the perfect home, make an offer. If accepted, the purchase process begins.
Home Inspection and Appraisal: These are essential steps to ensure the property is in good condition and to determine its market value.
Finalizing the Loan: Submit all required documentation, and we'll finalize the loan details, including the interest rate and term.
Closing: This is the final step where all parties sign the necessary paperwork, and you become the official owner of your new home!
What's Included in a Monthly Mortgage Payment?
Your monthly mortgage payment is a combination of several components. Understanding each can help you manage your finances better:
Principal: This is the amount you borrowed to purchase your home. Over time, a larger portion of your monthly payments will go towards reducing this principal amount.
Interest: This is the cost of borrowing money, determined by your mortgage rate. Initially, a significant portion of your payment goes towards paying off the interest.
Property Taxes: Local governments charge these taxes based on your home's assessed value. They fund community services like schools and infrastructure.
Homeowner's Insurance: This insurance covers potential damages to your home from events like fires or storms. It's essential for protecting your investment.
Private Mortgage Insurance (PMI): If your down payment is less than 20%, you might be required to pay PMI. It protects the lender in case you default on the loan.
HOA Fees: If your property is part of a Homeowners Association (HOA), you'll have monthly or annual fees. These fees cover community amenities, maintenance, and other shared services. It's essential to factor these into your monthly budget, as they can vary significantly based on the community's offerings and requirements.
Unlock the Door to Your Dream Home with Citizens State Bank
Why wait? Embarking on the journey to homeownership is a significant milestone, and choosing the right partner can make all the difference. At Citizens State Bank, we're not just any bank; we're your neighbor, your friend, and your trusted financial partner. With deep roots in communities like Ouray, Ridgway, Silverton, Naturita, and Telluride, we understand the dreams and aspirations of our fellow Coloradans. Our dedicated team at each local branch is equipped with the knowledge and passion to guide you every step of the way. Whether you have questions, need advice, or are ready to take the leap, we're here for you. Contact Citizens State Bank today or visit us in person at your nearest branch. Let's turn the key together and make your dream home a cherished reality.
At Citizens State Bank, we proudly uphold our commitment as an Equal Housing Lender, ensuring fair and equitable lending opportunities for all.
---
Contact Our Mortgage Experts
---
Common questions about mortgages
---
Contact Our Mortgage Experts
---
Download Our Mobile App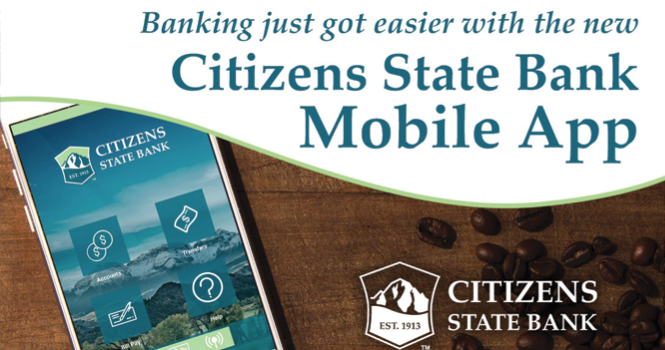 Download the new Mobile App & get access to these great features!
Mobile Check Deposit, Transfers, and Bill Pay
Access to Account Balances & Transactions
Download the app for free from iTunes or Google Play.
---
Have questions? Just ask. We're here to help.
We will respond during regular business hours, M-F - 8:30AM to 5:00PM.
Phone: 970.325.4478
Contact Us