---
Home Equity Loans & HELOCs
Unlock Your Home's Potential
At Citizens State Bank, we understand the unique needs and aspirations of homeowners in Colorado's charming small towns. Nestled in the heart of communities like Ouray, Ridgway, Silverton, Naturita, and Telluride, we pride ourselves on being more than just a bank. We are your neighbors, your friends, and your trusted financial partners. When it comes to leveraging the equity in your home, we offer tailored solutions that resonate with your goals and dreams.
---
Contact Our Mortgage Experts
---
The Power of Home Equity: Why Use It?
Asset Utilization: More Than Just Bricks and Mortar
Your home represents more than just shelter or a place to create memories. Over the years, as you've made mortgage payments and the property's value has appreciated, you've built up equity. This equity is a tangible representation of your financial diligence and the growth of your investment. By tapping into this equity, you're essentially leveraging an asset you've carefully cultivated over time, making your home work for you in more ways than one.
Financial Flexibility: Ready Cash When You Need It
Life is unpredictable, and financial needs can arise when least expected. Whether it's an opportunity you want to seize or a challenge you need to overcome, having access to funds can be invaluable. Home equity products offer a way to access significant amounts of money without liquidating other investments or taking on high-interest debts. It's about having the financial agility to navigate life's twists and turns with confidence.
Making the Most of It: Ideal Uses for a Home Equity Loan
Home Renovations: Elevate Your Living Experience
Whether it's the kitchen you've always dreamed of, an extra bedroom for your growing family, or a backyard oasis, home renovations can significantly enhance your living experience. By using a home equity loan, you can fund these improvements, potentially increasing your property's value and enriching your quality of life.
Debt Consolidation: Simplifying Your Financial Landscape
Juggling multiple debts, each with its interest rate and payment schedule, can be both stressful and costly. A home equity loan offers a solution: consolidate those debts into one. This not only simplifies your financial management but can also result in savings if the equity loan's interest rate is lower than those of your existing debts.
Major Expenses: Meeting Life's Big Moments Head-On
From sending a child to college to covering unexpected medical bills or even taking that once-in-a-lifetime trip, significant expenses require substantial funds. A home equity loan provides a way to meet these costs without depleting your savings or resorting to high-interest loans.
---
Contact Our Mortgage Experts
---
What Not to Use an Equity Loan For
Short-Term, Small Purchases: Think Long-Term
While it might be tempting to use a home equity loan for everyday purchases or short-term needs, it's essential to remember that these loans are designed for long-term financing. Using them for fleeting expenses means you could be paying off that debt long after the purchase has lost its value.
Speculative Investments: Weighing the Risks
The allure of high returns can make speculative investments seem appealing. However, the inherent risks associated with such ventures can be significant. Using your home's equity – essentially putting your home on the line – for uncertain returns is a gamble that requires careful consideration.
Impulse Buys: The Cost of Instant Gratification
While it might feel good to make a spontaneous purchase, the long-term implications of using your home's equity for such buys can be sobering. It's crucial to differentiate between wants and needs, ensuring that you're using your equity in ways that align with your long-term financial goals.
Choosing Wisely: Home Equity Loan vs. HELOC
Home Equity Loan: Predictability in an Unpredictable World
A home equity loan provides you with a lump sum of money, which you pay back in fixed monthly installments over a set period. With a consistent interest rate, you'll always know what to expect, making budgeting and financial planning more straightforward.
HELOC: Flexibility at Your Fingertips
A Home Equity Line of Credit (HELOC) operates more like a credit card. You have a set credit limit, and you can draw from it as needed. Interest rates are typically variable, meaning they can fluctuate over time. This makes a HELOC ideal for ongoing expenses or as a financial cushion for unforeseen needs. However, it's essential to manage a HELOC responsibly to avoid potential financial pitfalls.
Unlock Your Home's Potential with Citizens State Bank!
Are you ready to transform your home or streamline your finances? Don't let opportunity pass you by. At Citizens State Bank, we're committed to helping you harness the power of your home's equity. Whether you're eyeing a renovation, dreaming of a vacation, or seeking financial flexibility, our expert team is here to guide you every step of the way. Dive into a world of possibilities and secure your financial future. Contact us today to embark on your journey towards achieving your dreams.
At Citizens State Bank, we proudly uphold our commitment as an Equal Housing Lender, ensuring fair and equitable lending opportunities for all.
---
Contact Our Mortgage Experts
---
Download Our Mobile App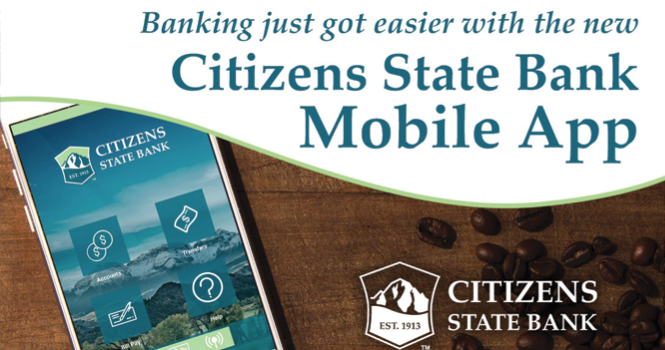 Download the new Mobile App & get access to these great features!
Mobile Check Deposit, Transfers, and Bill Pay
Access to Account Balances & Transactions
Download the app for free from iTunes or Google Play.
---
Have questions? Just ask. We're here to help.
We will respond during regular business hours, M-F - 8:30AM to 5:00PM.
Phone: 970.325.4478
Contact Us