From Empty Plots to Dream Spots: Tailored Land Loan Solutions.
In the heart of Colorado's picturesque small towns, Citizens State Bank stands as a beacon of trust, community, and financial expertise. Serving the vibrant communities of Ouray, Ridgway, Silverton, Naturita, and Telluride, we pride ourselves on understanding the unique aspirations of our neighbors. If you're eyeing a plot of land, whether as a long-term investment or for a future home, we're here to make that dream a reality.
---
Contact Our Mortgage Experts
---
Discover the Power of a Land Loan
Land is more than just earth and grass; it's an enduring asset, a testament to nature's bounty, and a canvas for future dreams. Whether you're an investor seeking to diversify your portfolio or an individual envisioning a future home amidst Colorado's beauty, a land loan offers the financial leverage to make that vision tangible.
Understanding Land Loans: A Spectrum of Choices
Lot Loan: When you've set your eyes on a residential plot that's just waiting for the bricks and mortar, the Lot Loan is your best ally. Tailored specifically for lands primed for construction, this loan is more than just a financial agreement—it's the first brick in the house of your dreams. With a Lot Loan, you're not just buying land; you're securing a future filled with possibilities.
Improved Land Loan: Imagine a piece of land that whispers promises of a bright future, already equipped with the essentials like electricity and water. The Improved Land Loan is designed for such plots that strike a balance between untouched beauty and basic development. It's the perfect choice for those who want a head start in their construction journey, ensuring that the foundational amenities are already in place.
Unimproved Land Loan: There's a unique thrill in discovering a plot of land that's untouched by significant development—a blank canvas where you can paint your future. The Unimproved Land Loan caters to these raw, untamed lands. It's an invitation to visionaries who can look beyond the wilderness, seeing the potential for growth, beauty, and innovation.
Vacant Land Loan: Some plots whisper tales of the past, while others shout out the possibilities of what could be. Vacant lands fall into the latter category. These untouched terrains, free from any development, are brimming with potential. The Vacant Land Loan is for those who see this potential, offering a chance to invest in a land that can appreciate over time, be it for conservation, development, or future ventures.
Depending on the type of land and its amenities, especially utilities and vehicular access, down payments can range between 25-50%. Our team is always on hand to guide you through the specifics.
Your Land, Your Legacy. Let's Cultivate Your Future Together!
Colorado's landscapes are calling, and there's no better time to stake your claim. Whether you're drawn to the serene beauty of Ouray, the charm of Ridgway, the historic allure of Silverton, the untouched vistas of Naturita, or the vibrant spirit of Telluride, Citizens State Bank is your trusted partner. Reach out to us today or visit a branch in any of our towns to set the cornerstone of your land investment dream.
At Citizens State Bank, we proudly uphold our commitment as an Equal Housing Lender, ensuring fair and equitable lending opportunities for all.
---
Contact Our Mortgage Experts
---
Common questions about Land Loans
---
Contact Our Mortgage Experts
---
Download Our Mobile App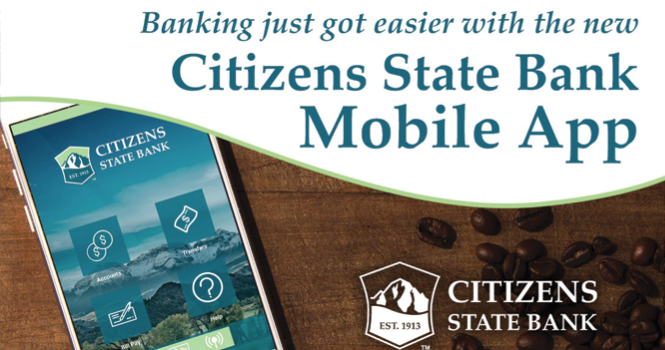 Download the new Mobile App & get access to these great features!
Mobile Check Deposit, Transfers, and Bill Pay
Access to Account Balances & Transactions
Download the app for free from iTunes or Google Play.
---
Have questions? Just ask. We're here to help.
We will respond during regular business hours, M-F - 8:30AM to 5:00PM.
Phone: 970.325.4478
Contact Us