Seeding Growth: Empowering Local Farmers with Our Agricultural Loans
Citizens State Bank is a community-oriented financial institution serving the towns of Ouray, Ridgway, Silverton, Naturita, and Telluride. Rooted in our commitment to local growth, we're proud to offer agricultural loans tailored to meet the unique needs of farmers, ranchers, and agricultural business owners in our community.
We understand that agriculture is the backbone of our local economy, and we're here to support that important work. From farm ownership loans to agricultural equipment loans, we've crafted a suite of financial products designed to facilitate the growth and sustainability of your agri-business.
---
Contact Our Business Team
---
Nurturing Your Agricultural Endeavors with Our Custom Loan Options
At Citizens State Bank, we offer a variety of Agricultural Loans to help your operations flourish. Whether you're seeking ranch operating loans for daily expenses, land purchase loans for farms to expand your property, or financing for livestock purchase to grow your herds, our flexible loan options have got you covered.
We also recognize that seasonal changes can affect your cash flow. That's why we provide feed and seed loans to help manage these cyclical costs, ensuring your crops and livestock are taken care of year-round.
Explore Our Agricultural Loan Solutions Today
If you're based in Ouray, Ridgway, Silverton, Naturita, or Telluride, we're ready and eager to help you reach your agricultural goals. We invite you to visit your nearest Citizens State Bank branch or connect with our Business Lending Team to discuss how our Agricultural Loans can cater to your unique needs.
Don't let financial challenges hinder your agricultural ambitions. Get in touch with us today and let's work together to grow your agricultural enterprise.
---
Contact Our Business Team
---
Common questions about Agricultural Loans
---
Contact Our Business Team
---
Download Our Mobile App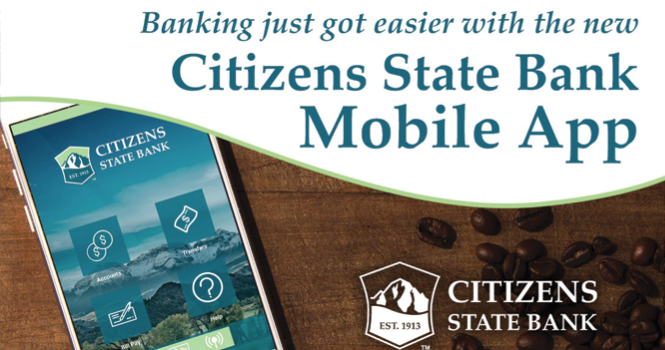 Download the new Mobile App & get access to these great features!
Mobile Check Deposit, Transfers, and Bill Pay
Access to Account Balances & Transactions
Download the app for free from iTunes or Google Play.
---
Have questions? Just ask. We're here to help.
We will respond during regular business hours, M-F - 8:30AM to 5:00PM.
Phone: 970.325.4478
Contact Us