---
Personal Checking Account
Keep Your Finances on Track with Personal Checking Account
Citizens State Bank is dedicated to providing our customers with personalized banking services that cater to their unique financial needs. Our Personal Checking account is designed to offer convenience and flexibility while helping you manage your finances with ease. We are committed to serving the small towns of Colorado and being a trusted financial partner for our community.
---
Open an Account
---
No Extra Costs, No Worries: Manage Your Money Effectively
Our Personal Checking Account offers several features that can benefit our customers, including:
Write Up to 40 Checks per Month at No Cost: You can write up to 40 checks per month at no cost, and only pay $0.20 per extra check. This means you can manage your transactions with ease without worrying about any extra fees.
Large Number of Transactions: Our Personal Checking Account offers a large number of transactions, so you can make deposits, withdrawals, and transfers whenever you need to.
Receive Printed Statement at No Charge: You can receive a printed statement at no charge, so you can keep track of your account activity and balance.
Access to Online Banking and Debit Cards: You can access your account online and use your debit card to make purchases and withdraw cash from ATMs.
Flexible Fee Structure: Our Personal Checking Account offers a flexible fee structure, where you only pay for over 40 checks if your balance is less than $600. The monthly service charge varies based on your account balance, ensuring that you only pay for what you need.
Open Your Personal Checking Account Today: Apply Online or Visit a Branch Near You
---
Open an Account
---
Personal Checking Account: Frequently Asked Questions
---
Open an Account
---
Download Our Mobile App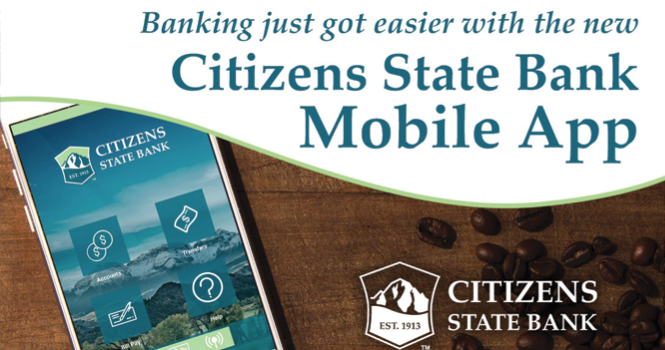 Download the new Mobile App & get access to these great features!
Mobile Check Deposit, Transfers, and Bill Pay
Access to Account Balances & Transactions
Download the app for free from iTunes or Google Play.
---
Have questions? Just ask. We're here to help.
We will respond during regular business hours, M-F - 8:30AM to 5:00PM.
Phone: 970.325.4478
Contact Us
Limitations: You must deposit $100.00 to open this account.
Account Fees:
$600 an over No monthly service charge or per debit item fee
$599 - $400 $6.00/month *
$399 - $200 $8.00/month *
$199 and below $10.00/month *
*Plus debit item fee more than 40 debit items (check & ACHs) per month $0.20 each .