---
First Time Home Buyers Mortgage
First-Time Homebuyer's Guide to Buying a House in Colorado
At Citizens State Bank, we're not just a financial institution. We're a pillar of the community, deeply entrenched in the heartbeats of Ouray, Ridgway, Silverton, Naturita, and Telluride. Recognizing the aspirations and concerns of first-time homebuyers, we've tailored our Fixed Rate Conventional Mortgage to make your journey to homeownership as seamless and transparent as possible. Together, let's take the first step towards your dream home!
---
Contact Our Mortgage Experts
---
Navigating the Mortgage Process: A First-Time Buyer's Roadmap
The path to owning your first home can be thrilling yet daunting. At Citizens State Bank, we're dedicated to demystifying the mortgage process for you. With our unwavering commitment to education and clarity, we ensure you're well-informed at every juncture. Here's a simplified guide for first-time buyers:
Talk to Us: Meet our team to talk about what you want, how much you can spend, and any questions you have.
Get Approved First: Before looking for a house, get an approval. This helps you know how much you can spend and makes buying easier.
Look for a House: Start searching for your perfect house with your budget in mind.
Make an Offer: Like a house? Make an offer to buy it.
Check the House: Make sure the house is in good shape and find out its worth.
Finish the Loan: After giving all the needed papers, we'll set up your loan.
Closing: The special day you sign papers and get your house keys!
Decoding Your Monthly Mortgage Payment
For first-time homebuyers, understanding the components of your monthly mortgage payment can be invaluable:
Principal: The main money you borrowed for your house.
Interest: What you pay extra for borrowing the money.
Property Taxes: Money you pay to the city for things like schools and roads.
Homeowner's Insurance: Pays for damages to your house from things like fires.
Private Mortgage Insurance (PMI):: Extra insurance if your down payment is less than 20%
HOA Fees: Extra costs if your house is in certain areas. It pays for shared things like pools or
---
Contact Our Mortgage Experts
---
Essential Documents for First-Time Homebuyers
Streamline your mortgage application process by having these documents ready:
Proof of Income: Recent pay stubs or tax returns will suffice.
Credit History: Stay informed about your credit score as it plays a pivotal role in determining your loan terms.
Personal Identification: A valid ID for verification.
Debt Information: Details of existing debts can influence your borrowing capacity.
Down Payment: Ensure you have documentation about its source.
Begin Your Homeownership Journey with Citizens State Bank
Why choose Citizens State Bank for your first home? Because we're more than just a bank. We're your community partner, understanding the unique dreams of our fellow Coloradans. Our local teams are passionate about guiding first-time homebuyers, answering questions, and providing expert advice. Ready to embark on this significant life milestone? Reach out to Citizens State Bank today. Together, let's make your dream home a reality.
At Citizens State Bank, we proudly uphold our commitment as an Equal Housing Lender, ensuring fair and equitable lending opportunities for all.
---
Contact Our Mortgage Experts
---
Common questions from First Time Homebuyers
---
Contact Our Mortgage Experts
---
Download Our Mobile App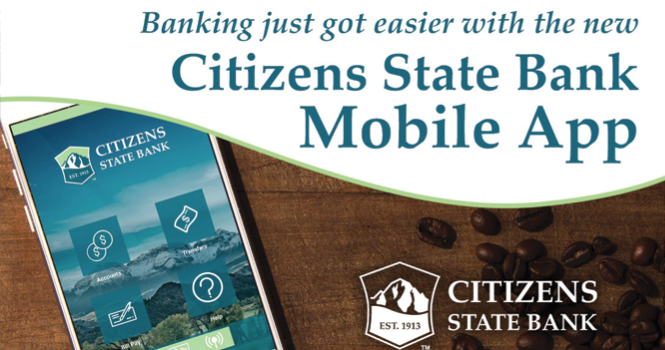 Download the new Mobile App & get access to these great features!
Mobile Check Deposit, Transfers, and Bill Pay
Access to Account Balances & Transactions
Download the app for free from iTunes or Google Play.
---
Have questions? Just ask. We're here to help.
We will respond during regular business hours, M-F - 8:30AM to 5:00PM.
Phone: 970.325.4478
Contact Us